Kotobuki Sangyo Co.,Ltd. contributes to the enhanced value of the customer's product.
Since the time it was established, Kotobuki Sangyo Co., Ltd. has continued to endeavor to provide our customers with parts and machinery of the appropriate quality and price, in response to problems, at times of short notice, and in line with the delivery dates requested by our clients. The continuation of such service formed the foundation of trust and led to the joint development of the hot mill roller guide with the Fuji Iron & Steel Co., Ltd. Muroran Works, which struggled with measures against defects during stainless rolling. Painstaking effort was poured into undeveloped work that did not infringe overseas product patents, and the resulting new technology contributed to the increase in value of products from the Muroran works.

Forty years on and currently we are proud to have gained close to an 80% share of the domestic market, with the focus on developing, designing, manufacturing and marketing not only roller guides but also rolling mill peripheral devices as tools for solving the problems and fulfilling the detailed wishes of our customers.

In the overseas market, too, since the 1970s, our roller guides have been utilized and achieved success at plants in the United States and other regions around the world.

Currently, mechatronics using hydraulic transmission and the like are contributing greatly to increased energy efficiency within plants, and are favored by many customers. Kotobuki roller guides are now indispensable in the world-renowned Japanese steel industry, as a tool vital for the manufacture of high quality, high value-added products. Whether it's special steel for automobiles and construction machinery or the shape and bar rolling of high-strength deformed steel for high-rise building construction, Kotobuki Sangyo Co., Ltd. roller guides, automated control guides and ancillary equipment for rolling mills can no doubt contribute to improved production and increased product value at your company.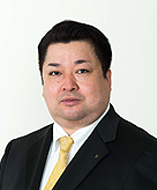 Shunichiro Suzuki,
President & CEO
Greetings from the CEO
Kotobuki Sangyo Co., Ltd. was established by the founding president in 1951, as a maintenance parts supplier to the Nippon Steel Corporation Muroran Works. Since the development of the initial steel-bar roller guide in 1963, the company has continued to contribute to development of the steel industry as a roller guide manufacturer.
Furthermore, in recent years environmental issues have been tackled by means of the development and commercialization of a scrap-tyre recycle system and powdered rubber.
In 2000, the company received ISO9001 certification, and in 2006 it renovated its Hassamu factory, introducing FEM analysis, 3-D CAD and multiaxial processing machinery in pursuit of high-quality products to cater for our customers' needs.
Since its establishment, Kotobuki Sangyo Co., Ltd. has endeavored to provide "better, faster and cheaper" solutions to customers' needs through continued improvements in technology as we strive to develop steel milling that can bring our clients' wishes to reality.
Company overview
Company name
Kotobuki Sangyo Co., Ltd.
Address
Kita 3-jo Higashi 2-chome 2-30, Chuo-ku, Sapporo, Hokkaido 060-0033
TEL
011-261-5221
FAX
011-207-7050
Established
March 26, 1951
Capital
96,800,000 yen
Line of work
Metal processing machinery manufacturer
Officials
Top Advisor;Toshiyuki Suzuki
President & CEO Shunichiro Suzuki
Director Kotaro Suzuki

Number of employees
70 people
Main banks
Hokkaido Bank, Sapporo Ekimae Branch; North Pacific Bank, Head Office; Bank of Tokyo-Mitsubishi UFJ, Sapporo Branch; Hokuriku Bank, Sapporo Branch; Japan Finance Corporation, Sapporo Branch
Details of business
Design, manufacture and sale of milling guidance machinery; design, manufacture and sale of standard machinery; development, manufacture and sale of scrap-tyre recycling machinery; domestic agent for abrasion resistant products; import agent for abrasion resistant products.
Major clients
Blast furnace, arc furnace and special steel manufacturers
Bases
Sales offices : Sapporo, Sendai, Tokyo, Nagoya, Osaka, Okayama, Kyushu
Factories   : Hassamu (Sapporo), Zenibako (Otaru), Rifu (Miyagi)
Relate companies
Kotobuki Machinery Co., Ltd.Higashi-Naebo 3-jo 3-chome 1-29, Higashi-ku, Sapporo, Hokkaido 007-0803
Business philosophy
Our company aims, by means of its main line of business as a designer and producer of machinery related to the steel industry and the environment, to become the cornerstone of industrial development, endeavoring to create prosperity for the company and provide welfare for its employees.
Basic business policy
Company growth and development by providing customer satisfaction